Hi! Welcome back! I hope your week went well. If you got assigned a new project at work, I hope it is easy and will make you look good. That's the idea project, I think. Most importantly, I hope it gets you a raise. More people need raises more often.
It's fall now, but boy it really still feels like summer, huh? The other day it was in the high 60s and I told my coworker I was a little chilly, and he said, "Well, it's fall now, so it should actually be cooler than this but. Global warming." So I said, "Todd, relax? Fall started less than a week ago? Global warming is a clear and obvious threat, but can you just let me say that I'm chilly and move on with both of our lives without making me feel like we're all going to die?"
Fine, I actually only said "Ok" because Todd is not worth the energy to correct. 
---
Kylie Holloway
You guys. Kylie Holloway is so freaking cool. She's a Californian, comedian, and producer (in that order.) She is the host of the podcast Nevertheless She Existed which records live at Caveat (details below!) Let me just quote the language of the podcast for you, because it sounds very cool. "Recorded at Caveat in NYC, each episode brings the story of an erased woman from history from our LES speakeasy right to your earbuds. You'll hear tales of a gay nuns burned as witches, queens of NYC theives, mothers, warriors, and poets. The fabulous, funny, and fierce comedians Molly Gaebe and Kylie Holloway serve as our hosts as we travel down the rabbit hole of women's history. You'll laugh, you'll cry, you'll definitely say "f*ck yeah" because Nevertheless, She Existed." More deets about it here!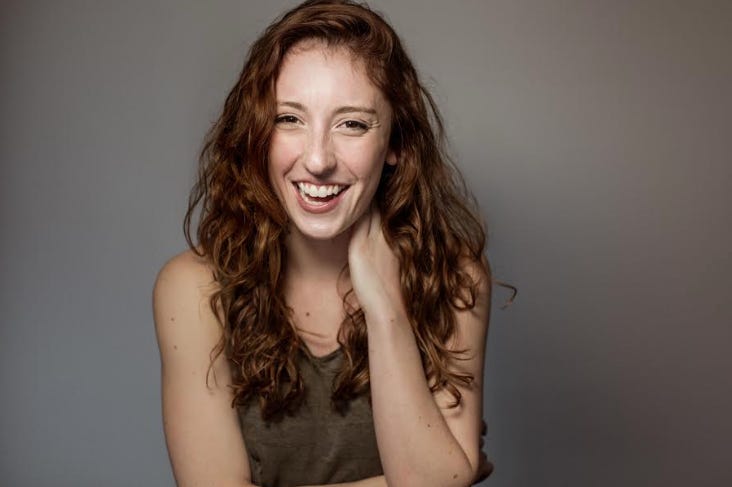 Kylie also hosts the show Ride Or Die: Oregon Trail Live at Caveat (details below!) which I actually can't wait to go to. "We've taken your favorite educational computer game, slapped some facts on it, and turned it into a real life drinking game," I mean come on, it just sounds like the best time. More deets about it here! You can catch her talking about badass female artists as a tour guide at the Metropolitan Museum of Art or talking about herself onstage around the city. She also works as the booking manager at Caveat- if you're a person with a show idea send her a pitch! Sidenote: if you have never been to Caveat, it's a very cool venue that you should check out soon (probably to see one of Kylie's shows!) Given her resume thus far, I can't wait to see what Kylie does next. 
You can find Kylie on social media at
Twitter: @kylieholloway_
Insta: @kylieholloway_
---
Upcoming Events 
Nevertheless She Existed: Horror Queens!

October 17, 7pm

Caveat, 21 A Clinton St

Ride Or Die: Oregon Trail Live

November 22, 9:30pm

Caveat, 21 A Clinton St
---
News Brief I Guess
I went with my friend to the TMobile store yesterday and they had a song playing (very loudly) through one of their bluetooth speakers. It was the second time that day I heard the song and it sounded nice, so I Shazam'd it. Turns out, it' Lover by Taylor Swift?? Who knew!
I'm not sure if we collectively love or hate her this week, I honestly can't keep up with that kind of drama, but it's a surprisingly nice song. I'm sorry, I don't keep up with happening music. This isn't even news, it came out weeks ago. Anyway, it's a lovely song. It doesn't sound like normal TSwift, so I was surprised. I'll link it here because now it's stuck in my head. I will not apologize for this.
---
Submissions
If you have an event you'd like to submit for next week, fill out the form here!
If you'd like to be featured next week, or know someone who should be, fill out this form!
And if you haven't already, I hope you'll subscribe! And if you feel inclined, please share it with your friends. 
This newsletter is and will remain free! 
---

Libra Season, am I right?